'Tis the season for heart-shaped chocolate boxes, obnoxiously corny cards and a spike in flower sales. But what about the 40% of Americans currently using a dating app to find true love? Well, if you're part of the population sitting at home with your cat this Valentine's Day, swipe down for a few tips to help you find a match.
As an agency that specializes in digital optimization, we got to thinking (alcohol may or may not have been involved), how does one optimize their dating profile? Is there a way? We gathered the Rocket55 crew for an afternoon discussion about what makes us swipe right and what makes us swipe left. Then, we compiled our thoughts and put them to the test. Here are our initial rules of engagement:
Tips to improve your dating profile:
Ladies

You aren't a duck. So don't try to look like one.

Wear red. Seriously. In the first three photos.

Your face is cute, but a full body shot is also helpful.

Gents

Keep your shirt on, bro.

Puppies and kittens FTW. Grandma will work, too.

Maybe 2017 will be the year men master the selfie. Until then, leave the mirror selfies off your profile.

All for one, and one for all

Put a photo of just you first so users know what you look like. We're looking for a match, not Waldo.

Is the person in that photo with you really your sibling? Group photos or just you, pretty please.

Think about your audience. Try to avoid using pictures that imply built-in competition.

Want to match? Write a bio. Not just 15 emoticons in a row. #lazy

No Snapchat screenshots. Really? Just download it if you like it so much.

Variety is key. Show a hobby, show a passion (drinking habits do not apply here).
Putting it to the test
After an afternoon of honesty and laughs, we set to find out if optimization was possible. Of all the office singles, we needed a volunteer – enter Bailey. For the sake of this experiment, we used Tinder. It has the most monthly users (7 million – your true love is out here folks), and the open ability for anyone to message after a successful match. Over two successive weekends, we tested Bailey's profile as is for our control group and then optimized to see if we had the key to online dating success.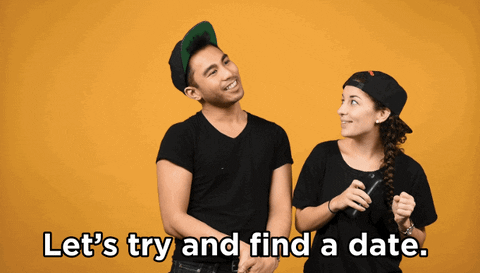 The first weekend we created a profile by signing up with her Facebook account. Pictures and bio were sourced directly from her Facebook account and were not altered. And yes, we did make fun of her for the cliche Irish quote. By the end of the weekend, Bailey had made 114 matches and received 55 messages. Yay, Bailey!
Taking picture type, order, and bio preferences into account, we optimized her profile for weekend number two. Turns out, red shirts and witty bios make a difference. By the end of the weekend, Bailey had 230 matches and 104 messages. Weekend-over-weekend, the optimized profile resulted in a 102% increase in matches and an 89% increase in messages. Holy smokes, Batman! Apparently optimization is the key to matching online.
While we wish we could have run more tests to see how the tips and tricks played out for other subjects [read: guys, and members of the LGBT community of either gender – preferably both], but not everyone was as brave as Bailey. Maybe next year we can talk the intern into it…
All in all, if you're looking for a match, put some thought into it. Consider your audience and take a thoughtful approach to setting yourself up for success in the dating world. It's a matter of personal preference, but in this instance – the numbers don't lie.